Head of School Welcome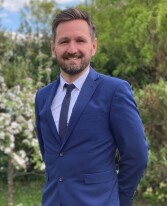 It is with great pleasure that I welcome you to St Cecilia's Church of England Primary School and proudly introduce myself as the Head of School. I have been fortunate to teach and lead in several schools within Wokingham and Bracknell and I now look forward to opening our incredible school and growing it with the support of the local community.
My vision is to create a school environment that has strong and open relationships with families at St Cecilia's as I believe the partnership between school and home is what truly makes a great school where all can flourish. I aim for each child to realise their academic potential but also for our children to develop a strong moral compass by instilling the core Christian values of Gratitude, Kindness, Forgiveness, Truthfulness, Perseverance and Wisdom. Our school will be a place where we encourage and support each other and celebrate all our successes.
As a father of two myself, I am fully aware of the importance of making the right school choice for your child so I would strongly recommend that you come and visit us and attend one of our future Open Events and if you ever have any questions please do not hesitate to get in touch.
I am very much looking forward to meeting, getting to know and working alongside you all, and the family of schools at The Keys Academy Trust, to grow a school that we are all proud of.
Mr Richard Thomas
Head of School